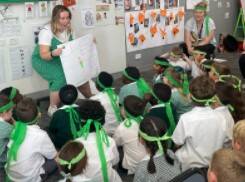 Catholic Identity
Last week we acknowledged Catholic Education Week with the celebration of the Sacrament of Confirmation. The Spirit was active within our students and community as we reverently gathered and prayed together led by Bishop Ashe.
Here is a link to The Catholic Education Week prayer we encourage you to pray with your family.
Students from Foundation, Year 1 and Year 2 celebrated St Patrick's Day by sharing his story, dancing an Irish jig and searching for the Leprechauns' pot of gold.
Our connection to the Parish of St Andrew's
Fr Jossy talked with students from Year 4, Year 5 & Year 6 about how they can be active in the parish, particularly in the role of altar servers at school & weekend masses. An altar server enrolment form was distributed.
Social Justice and service to others
Our St Andrew's Mini-Vinnies Team of Year 6 students have begun planning how to be of service to those in need in our community. Look out for their social justice action in the next newsletter.
Principal's Message
Dear Parents & Carers,
Last week I was fortunate to attend a conference with 225 other catholic primary school principals from across Victoria. The theme of our conference was HOPE: For Now and Whatever Lies Ahead. We heard from a number of inspiring speakers, many have had to overcome some incredibly difficult ordeals but through persistence, hope and sometimes, a little luck, they have overcome the challenges to achieve success. One speaker who made a real impact was Kath Koschel, founder of the Kindness Factory, I invite you to google her and see some of her story, such inspiration. I return with a number of ideas that will, over time, begin to influence some of the ways we do things in our school. I thank the staff, in particular Glenn & Lisa and the admin staff, for deputising in my absence to enable me to attend this important bi annual event.
Vaccination requirements for parents, carers and other visitors not performing work:
From Friday 25 March,
all parents, carers and other visitors attending schools, including for drop-off and pick-up, must adhere to physical distancing, density limits and face mask requirements, and practise respiratory etiquette and good hand hygiene.
Schools must sight vaccination information of parents, carers and other adult visitors not performing work who enter school sites.
Schools do not need to collect, record or hold the information in these circumstances.
 Parents, carers and other adult visitors who enter school sites must have had two doses of a COVID-19 vaccine or have a valid medical exception, with the following limited exceptions:

when attending to administer medical treatment to their own child where the treatment cannot be administered by the school
when attending to collect their child who is unwell and cannot leave the school building unaccompanied by their parent/carer
when attending for a momentary period that does not involve any sustained contact with staff or students, for example, to collect a completed art project or similar.

Parents, carers and other adult visitors attending school sites for drop-off and pick-up who do not enter school buildings do not need to comply with vaccination requirements.
Parents, carers and other adult visitors attending a gathering at school, such as a fete, school play or other school ceremony, whether indoors or outdoors, need to show evidence of vaccination on arrival.
There will be a final RAT kit distribution for term 1 on Thursday 7 April. This RAT kit for the final two weeks of term should be used for the first two weeks of Term 2, Children are encouraged to take a Rapid Antigen test on the night of Monday 25 April or the morning of Tuesday 26 April before returning for term 2. 
End of Term 1 is Friday 8 April. School will finish at 1.00pm.
Regards
Michael Gavaghan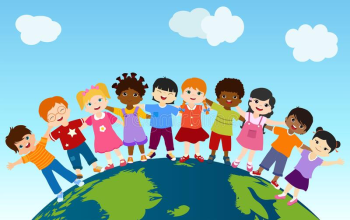 Cultural Diversity Week 19-27 March 2022: Connecting Through Culture
This week we celebrated Cultural Diversity Week, a time to celebrate Australian multiculturalism. Australia is one of the most successful multicultural countries in the world and we should celebrate this and work to maintain it. At St Andrew's we recognise the significance of harmony week and every other week through inclusiveness, respect and belonging for all, regardless of cultural or linguistic background, united by a set of core values of Respect, Responsibility and Safety. During the week our students were invited to reconnect, share and express themselves creatively.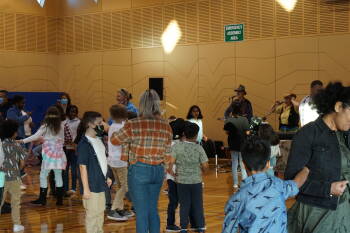 Bush Dance
How exciting was Friday's Family Bush Dance?  Our first opportunity as a school community to gather in a social setting since the pandemic began was so well attended and the smiles on everyone's faces was sheer delight. A lot of planning went into the night to provide an environment that was as COVID safe as we could make it. Thank you to the Parent Association and the staff for collaborating in organising the event.
Upcoming Dates
| | |
| --- | --- |
| Tuesday 29 March | 7.00pm  SCHOOL ADVISORY COUNCIL MEETING |
| Saturday 2 April | 8.30am-11.00am  WORKING BEE Cancelled |
| Sunday 3 April | Daylight Savings ends |
| Wednesday 6 April | Easter Raffle drawn |
| Thursday 7 April | Subway Lunch |
| Friday 8 April | 1.00pm Term 1 ends |