St. Andrew's we use the 'To Know Worship & Love' program which includes Religious Education teaching materials and student texts.
Other materials and references are also used to support the R.E. program and the teaching of Religious Education is further supported by our RE Co-ordinator. Religious Education is a very important part of our curriculum and permeates all areas of school life.
The formal Religious Education Curriculum includes teaching about Catholic doctrines, traditions, the Scriptures, Sacraments, the Liturgical Seasons and special Feasts days.
The teachers integrate Religious Education into all areas of the curriculum by taking opportunities that arise in every day school life to discuss and further enhance the children's faith development and the development of Christian values and attitudes towards others.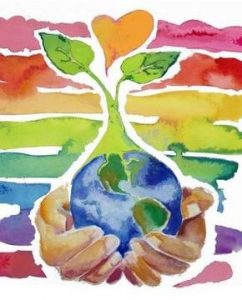 At St. Andrew's the Religious Education curriculum aims to give the children the knowledge, beliefs, values and traditions of the Faith.
Prayer is an important part of the children's development of their relationship with God and is particularly encouraged through their participation in classroom prayers, paraliturgies and School Masses.
The staff co-operate with and complement the parents by encouraging the children's involvement in the wider community life of St. Andrew's Parish eg. Participation in Parish liturgies.
 SACRAMENTAL PROGRAM
Children are prepared for the Sacraments from the beginning of their school life at St. Andrew's. During the year the sacraments of Reconciliation (Confession) Eucharist (Communion) and Confirmation are celebrated.
Reconciliation is celebrated in Year 3
Eucharist is celebrated in Year 4
Confirmation is celebrated in Year 6
As part of the preparation for sacraments, parents will be invited to Education in Faith meetings. It is an expectation that all families attend these meetings as we believe we share with parents the task of education children in Faith.